Peanut, black tea, mint, molasses
320,00₺
Very fresh coffee is not tasty. What is degassing and how can we ensure the preservation of the coffee's freshness?
Coffee releases carbon dioxide and carbon monoxide gases during the one-week period after roasting, and these gases contribute to sour flavors in coffee and leave a dry sensation on the palate.
These gases do not have any negative effects on health, but they can affect the taste experience negatively.
The release of gases decreases day by day, and by the fifth day after roasting, the negative flavors caused by freshness are significantly reduced in brewed filter coffee.
Therefore, we recommend waiting at least 5 days for degassing in our filter roast profiles, and at least 10 days for espresso.
As soon as we roast our coffees, we pack them in airtight, zippered, special coffee bags.
This way, when you don't open the package, the coffee maintains its freshness for 3 months.
After opening the package, store it in a cool, dry place away from sunlight and spices.
Simply keeping the package closed is sufficient for the 250-gram bag you purchased.
If you are transferring it to another container, you can use an airtight jar with a seal or a zippered bag that doesn't allow air in.
Do not refrigerate your coffee, and try to consume it within 2 weeks after opening the package. Brew your coffee as soon as you grind it.
Use a scale. You can check our recipes on our website for brewing recommendations.
Enjoy your coffee.
Peru Huabal Filter
Huabal is a district located in the province of Jaén in Peru's Cajamarca region. The coffee produced in this region is a blend of carefully selected coffees sourced from smallholder farmers in the Huabal district. The region is known for its potential to produce high-quality coffee, but many coffee producers face challenges that prevent them from realising this potential, such as poor infrastructure and limited access to information on coffee harvesting techniques.
To address these challenges, the state and consumers have supported the cultivation of the Catimore variety in the region. However, some producers have found that the Catimore variety is not efficient at high altitudes. Given this, they have started cultivating other varieties such as Caturra, Bourbon, and Catuai, which have achieved positive results.
Huabal is made up of several coffee-producing villages, with each producer specialising in one village. The altitude of production in the region ranges from 1200 to 2100 metres. The region is spread over several mountains, and as a result, the climate and soil conditions can vary greatly. Some areas are wet, moist, and red (similar to African soil), while others are dry and hot. Therefore, the region holds great potential for producing coffee with rich, delicious, and fruity in flavour.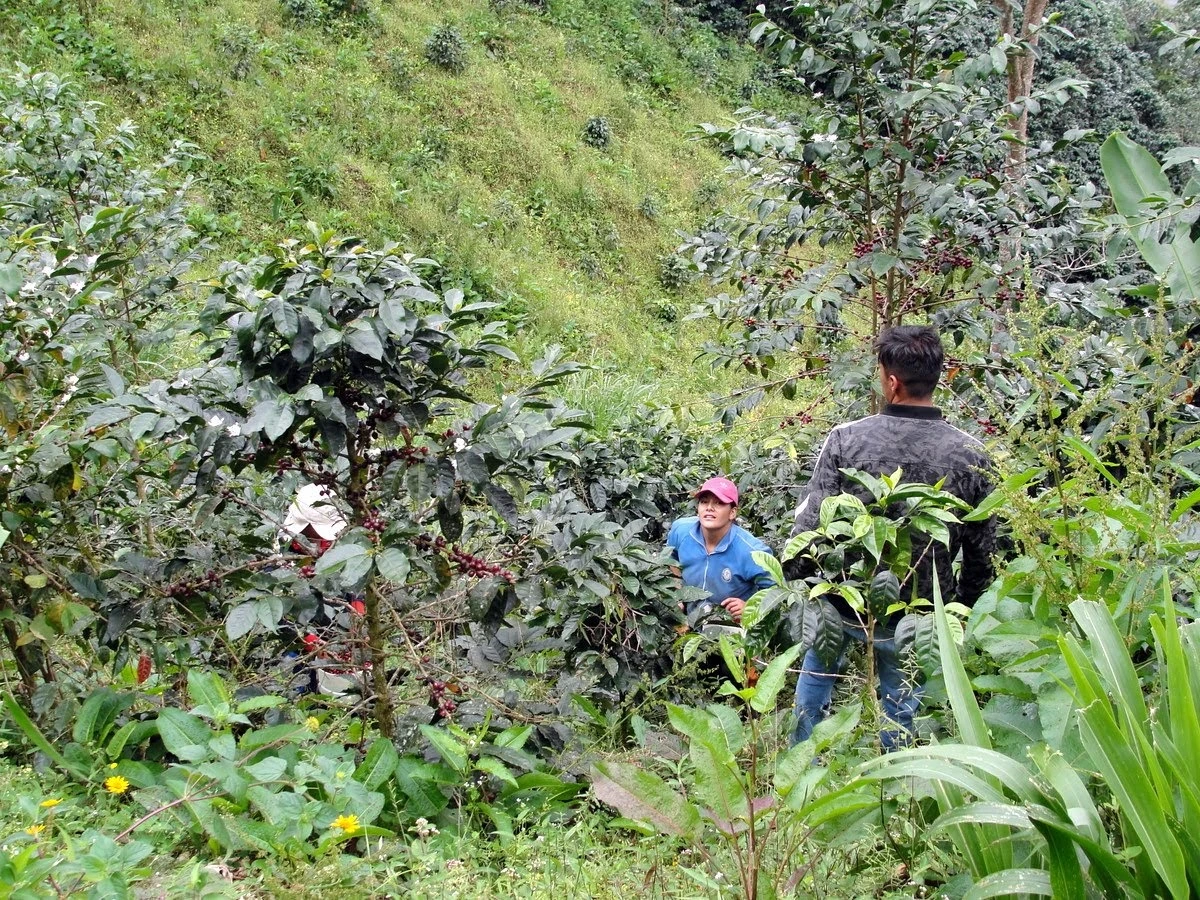 This lot from Huabal was grown, processed, and dried by producers at an altitude above 1800 meters. Many growers in northern Peru own their own washing stations and depulping machines for extracting coffee fruit. These machines are used by producers to process the coffee, which is then dried on African style raised beds or on their verandas. The dried coffee is then transported to the Falcon Peru warehouse in Jaén for quality control, where moisture and density values are recorded, and the coffee is roasted, tasted and scored.