Brew Methods
Hario V60
The V60 is a fantastic brewing device for making your morning coffee at home. It offers a simple and efficient brewing method that delivers a enjoyable filter coffee experience in just a few minutes. With its 60-degree conical angles, forming a 'V' shape, the V60 is specifically designed to enhance the brewing process. These angles, along with built-in projections for optimal airflow, contribute to a consistently great brew every time. The key to mastering the V60 technique is to pour hot water in a controlled manner using a kettle.
Dose
18 g
Water
300 ml
Water Temprature
95C
Brewing time
2:30 - 3:00 minutes
Equipment
Hario V60 02
Scale
Timer
Grinder
Kettle
Carafe
Hario V60 02 Filter Paper
Wooden spoon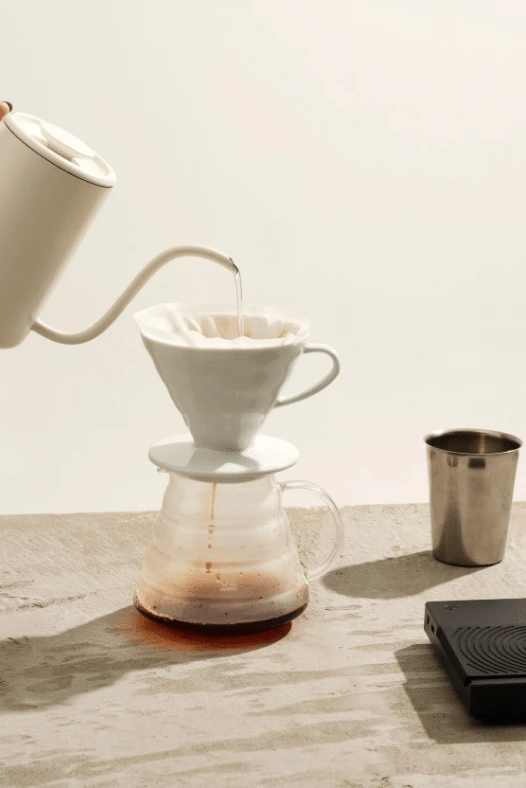 Start by weighing 18 g of coffee and grinding it to a medium coarseness.

Place the filter paper in the V60 and pour hot water over it to ensure it sits properly and warms up the equipment.

Before brewing, remember to empty the water from the carafe.
*You can use this water later to clean your equipment instead of pouring it out.

Add the ground coffee to the V60 and gently shake it to create a flat bed of coffee.

Reset the scale and start the timer. Now, you're ready to brew!

For pre-brewing, quickly pour 40 gram of water over the coffee and use a wooden spoon to mix it up and down, left and right, ensuring all the coffee is saturated without damaging the filter paper.

At 35 seconds, start pouring water slowly and steadily until you reach 150 g on the scale. Aim for dark spots while pouring and avoid adding too much water at once for a consistent brew.

Begin the final pour around 1:30 minutes and continue to add water until you reach 300 g.

Once all the water has filtered through the grounds, your coffee is ready to drink.

*If your coffee tastes weak or watery, try adjusting the grind settings to a finer coarseness. On the other hand, if your coffee tastes too intense or bitter, you may consider adjusting the grinder to a coarser setting.